Maple Smoked Kingfish
By: Mike On: 1 May 2018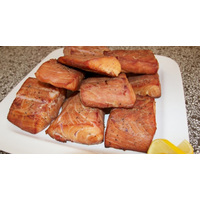 A great recipe for smoking kingfish in a Bradley smoker serves 16-25 portions
A great recipe for smoking kingfish in a Bradley smoker serves 16-25 portions
Ingredients:
Bradley Smoker
Bradley Maple Flavour Bisquettes
Bradley Maple cure
Bradley pure organic maple syrup
Fresh ground pepper
Garlic Salt
Kingfish Fillets
Method
Fillet, skin, debone and cut kingfish into 10-12cm long portions.
Lightly sprinkle Bradley Maple Cure on all sides of the kingfish slabs. Place in a sealed container and leave to brine for 12-36 hours in the refrigerator.smoking king 3
Dry all the slabs of Kingfish with a paper towel and layout on racks, sprinkle with ground pepper and garlic salt. Let the racks of Kingfish come up to room temperature before placing in the smoker.
Set the smoker for 3hours 20mins and load in the maple flavour bisquettes. Set the Oven as well for 3hours 20mins at 66°C and have the vent half open.
Place the racks of kingfish in the smoker and allow the smoker to cycle through the first 20mins without a bisquette. This will allow for the smoker to come up to temperature and produce good smoke.
Every hour open the smoker, rotate racks for even smoking and dry the slabs with a paper towel. Keeping the fish dry produces the best results.
Once the smoking process is finished set the oven to 90°C for a further 1hour 20min with the vent closed. Dry the slabs and glaze with Bradley Pure Organic Maple Syrup (we have also used soya and brown sugar for the glaze with great results).
Once the cooking process is done let sit for 1 hour with the vent wide open then take the fish from the racks and ENJOY!
Recipe Credit: Offshore Adventures NZ http://offshoreadventures.net/
---
Leave a comment