Whole Cajun Fish with Tzatziki Sauce
By: Mike On: 26 February 2019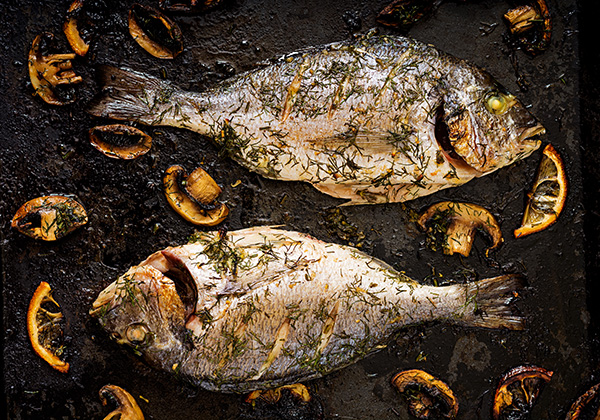 Delicious summer recipe alert!
The is recipe is well suited to snapper, tarakihi, or trevally and makes the most of your fresh catch and your BBQ. The Cajun flavours and a refreshing Tzatziki sauce, make this recipe the perfect meal to keep those summer vibes going!
Ingredients
¼ cup Olive oil
1 tsp Cajun spice
1 Fish, whole, such as snapper, tarakihi, or trevally - scaled, gutted, and gilled.
1 tsp Thyme leaves, fresh
1 tsp Crushed garlic, fresh
1 tsp Crushed garlic, fresh
Tzatziki sauce:
1 cup grated cucumber
½ cup plain Greek yogurt
1 tablespoon extra-virgin olive oil
2 teaspoons chopped fresh mint and/or dill
1 ½ teaspoons lemon juice
1 medium clove garlic, pressed or minced
¼ teaspoon fine sea salt
Method:
Rinse and pat the fish dry with a paper towel.
Cut slits about an inch apart across the top of the fish, just deep enough to cut through the skin.
Mix together the oil, Cajun spice, fresh thyme and garlic, and massage into the skin and flesh.
Fill the cavity with lemon slices and place a few on top. Chill for 1 hour.
Preheat your barbecue and sear the fish on both sides until it becomes nicely coloured.
If you are barbecuing with a lid, switch the heat to low and cook for an additional 15-20 minutes, depending on the size.
Alternatively, wrap the fish like a parcel in a large piece of foil.
Continue barbecuing on low heat for an additional 20 minutes or until the flesh flakes at the middle of the spine from the bone.
Tzatziki:
Working with one big handful at a time, squeeze the grated cucumber between your palms over the sink to remove excess moisture.
Add the yogurt, olive oil, herbs, lemon juice, garlic, and salt to the bowl, and stir to blend. Let the mixture rest for 5 minutes to allow the flavours to meld. Taste and add additional chopped fresh herbs, lemon juice, and/or salt, if necessary.
Finally Serve the fish with fresh bread, lemons for squeezing and the refreshing cucumber tzatziki.
---
Leave a comment